When it comes to sex, not everyone is a Kamasutra expert. But that's no reason to keep repeating  missionary, doggy style, or the spoon position, just to mention the most famous ones. Yes, knowing the best ways to make love is highly recommended to spice up the intimate life of your relationship
Above all, don't forget to cultivate desire, Of course, when it comes to sex, the best positions are those that suit you and your partner best. These are the positions that give your woman, the most pleasure and the best orgasms.
Because the initial third of the vaginal canal is entwined in the clitoral organs, combining slow short strokes with deeper strokes is necessary for females. In addition, some pressure against the cervix, together with clitoral and nipple stimulation, lights up the sensory cortex in the brain.
This suggests that clitoral consistency, breast stimulation, and occasional neck touch would be perfect sex positions to aid your partner's orgasm. Simply said, make sure you can stimulate their clitoris (with your fingers or a sex toy), gently massage their breasts and pinch their nipples, and finally, throw in some deep strokes.
Moreover, for most females simply being interested in trying out different positions makes a major difference in their pleasure and arousal. Showing that you care about their enjoyment is a turn-on in and of itself.
Here is a list of 13 Best women's favorite sexual positions.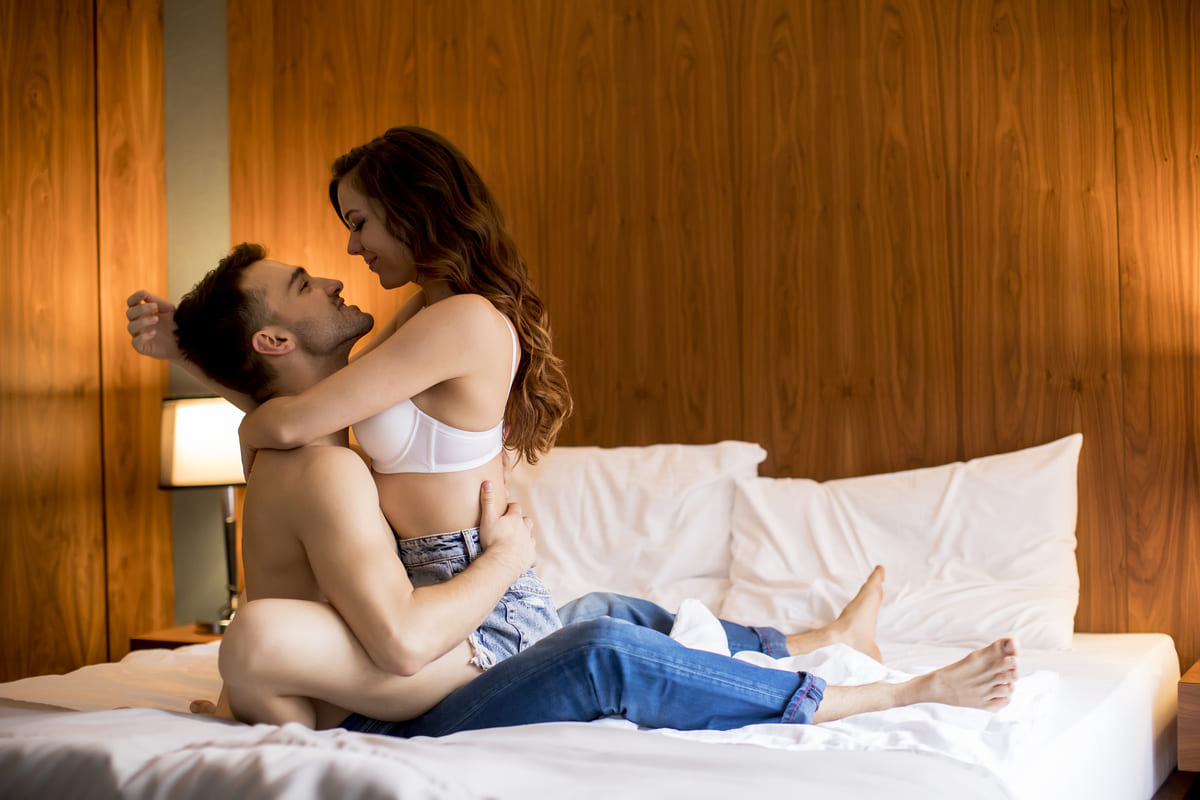 1. Missionary
The woman is lying on her back. The man is lying on top of her. Yes, perfectly, that's all.
It's in the old pots that the best soups are made. Well, old pots are not talking about you, are they? And "soup" is not at all, but not at all what you think. Anyway, this may not be the most delicate comparison in the history of comparisons, but all that to say that from time to time, a little simplicity and a good missionary doesn't hurt. It does a lot of good.
2. Union of the Magpie
Sitting on a solid support to stand straight, your man welcomes you to face him. Big difference compared to the goddess position: your feet are placed on the ground, to facilitate the support and the movements. Do you realize that with the union of the magpie with a "p", you were touching his dream? Finally, it is his shoulders that you touch here, and it is already not so bad. Especially if you take them as support, at the same time as your feet, to increase the contact between you and change the waves. Done at the edge of the bed, this position will allow you to put your legs together by choosing your rhythm, before rocking both of you, lying down, to let him show you what he is capable of. Name of a magpie.
3. Legs on Shoulders
You are lying on your back, and fold your thighs against your chest. Your lover sits on top of you and puts his arms under your knees, to help you keep your legs in the air (he can be so helpful)
As far as movements are concerned, you are at a standstill, because apart from caressing his butt, you can't do much. The position is not very relaxing, since you are being offered the full force of the love of your sweetheart. He is the feline, you are his gazelle, poor willing victim of his lion appetite. Or he is your Simba, you are his Nala if you prefer.
4. Cowgirl
You're lying on your back. They have one leg on either side of your torso and straddle you.
Cowgirl has several forms, and it's worth trying out which one works best for your women. They may choose to sit on you rather than ride you if they have their feet set on both sides of you. They may enjoy leaning back since it enables deeper penetration. They may enjoy it when you do all the pushing, but they usually prefer it when they are in control. They control the tempo, the depth of penetration, and the angles you hit. They can give themselves all they need to orgasm when they are in charge.
5. Reverse Cowgirl
The man is lying on his back on the bed, and the lady sits on top of him, facing her partner's feet, and inserts the penis into her vagina. The lady has complete control over the rhythm and pace of the moves. This posture may be extremely fascinating for the penetrating partner, who gets to see his partner's back and buttocks. Squeezing or grasping the buttocks might improve the pleasure for both parties. This position is difficult to learn because it demands the lady to bend back or sit up quite straight to fit the penis angle. "If you're leaning forward, it may be unpleasant and uncomfortable for the male because it almost seems like his penis is breaking.
6. Flatiron
Let them lay lie face down on the bed, knees slightly extended and hips slightly raised. You might put a pillow beneath their lower abs for comfort and to improve the angle of their hips.
Approach your women from behind and support yourself up with your arms to keep your weight off of them. This posture provides a tight fit, which heightens their enjoyment by making you look much bigger to them. This is an excellent position for maximizing your friction, getting full penetration, and stimulating the g-spot.
7. Doggy Style
The lady is on all fours in this posture, holding herself with her hands and knees. The man crouches behind her and penetrates her vagina through the back. This is the ideal sex position for deep vaginal penetration. It allows the guy to move his hips forcefully and rapidly, as well as touch much of the woman's body. The posture also promotes G-spot pleasure.
8. Side by Side or Sideways
The couple is lying on their sides, facing each other. The woman raises her upper leg to allow the male to enter his penis. The leg can then be wrapped around his waist or across his leg. this position is ideal for morning sex when you may be a little tired.
Because you are so close to your partner's face, it provides a lot of intimacy. During lovemaking, the couple might kiss and cuddle each other. The sex position is soothing, does not demand much stamina from either individual and allows for good clitoral stimulation.
9. Face-Off
The guy sits on the edge of the bed or in a comfortable sitting posture in this position, while the lady gets onto his lap, face to face wraps her legs behind him. The woman has control over the pushing speed. This posture also allows for direct clitoral stimulation and eye contact, which can lead to more intimacy.
10. CAT (Coital Alignment Technique)
Roll with CAT if you want to bounce rather than push. The key difference between this position and missionary is that the guy pushes the base of his penis so that it lines up with the clitoris and the two body parts make contact. After that, the pair swings back and forth while staying in close touch. "It's a new form of having sex, rather than pushing, you swing back and forth. This enhances the length of the man's intercourse and improves the chances of a woman having an orgasm since she is constantly stimulated.
11. Lazy Man
With this position, you have complete control. It's a nice way to break out from the standard woman on top, regulates pace and depth, and gets lots of tension. your partner will also have a fantastic sight of themselves flowing in and out of you.
Make your partner sit on the bed with their back raised by pillows and their legs extended out. With your feet on the bed, straddle their waist. Then, bend your knees and drop yourself onto them, putting the penis in with one hand.
12. The Corkscrew
The lady leans forward on the edge of the bed, resting on her hip and forearm while her lover enters her vagina from behind. The lady might tighten her grip on the penis by keeping her thighs together. When she spreads her legs, however, the clitoris is accessible for stroking while the male presses from behind. "You're getting that deeper penetration like doggy style, but this may be a simpler and more pleasant position.
13. Flat Iron
The woman is face down on the bed, her legs straight and her hips lifted slightly. the man approaches her vagina from behind. When the lady is on her stomach, her legs are closer together, creating a tighter fit for her partner's penis. This might result in a new and more powerful experience. This is a wonderful technique to increase the penetrating partner's sensation of tightness, and is ideal for clitoral stimulation since the partner may offer dual stimulation by reaching around with his hand or a sex toy.