Oral sex can be a very sensual activity for both men and women. Many times, though, men don't fully understand how to prepare for it beforehand, and many women don't understand the basics of performing oral sex. If you're one of these people, you might wonder: "What's the best way to prepare for oral sex?" "How can I make sure I give my partner the best oral sex experience possible?" If so, then this article is for you! In this guide, you'll learn the best way's to prepare for oral sex:
What is Oral Sex? Describe
Oral sex is a sexual act in which a person performs oral stimulation of the genitals of the other person; to be more precise, it is a very intimate sexual act in which you kiss, lick, suck, and/or swallow a partner's genitals. Oral sex can involve one or both partners. The most common form of oral sex involves oral stimulation of the penis or clitoris of the partner. Other forms include the oral stimulation of the vulva, mouth, anus, breasts, and nipples.
It's one of the most popular sexual activities in the world. It's also a very personal thing. You can enjoy oral sex to express your love, passion, affection, and intimacy for your partner. It's a way of giving pleasure and receiving pleasure. However, oral sex can be a very sensitive topic for some people.
9 Best Ways To Prepare for Oral Sex For Men
As a man, oral sex can be intimidating. It's not something you're likely to get used to. But there's no reason you shouldn't enjoy it! You'll learn the 9 best ways to prepare for oral sex for men.
1. Clean thoroughly
Cleaning is essential to good oral sex. You should clean the area with water and a bar of antibacterial soap before oral sex. This will help prevent the spread of disease and keep your partner from getting infected. Good hygiene is the most important factor regarding a healthy and appetizing penis.
Good oral sex can be a wonderful experience for both partners. Oral sex can give a man pleasure too. If your partner isn't comfortable with oral sex, you can ensure that you are very gentle.
2. Keep wipes beside you
To do oral sex correctly, you need to be well prepared. You will need to have some things handy before you perform oral sex on your partner. Sometimes, you will encounter problems when you perform oral sex. If this happens, you should have a wet wipe nearby. If you don't have access to a shower, it will be easier if you keep a set of cleaning wipes in the room. It's okay if the sheets or bedding are dirty. You can easily clean your partner's genitals using a few wipes. You can also use the wipes to clean yourself after you have had oral sex. Make sure you clean everything properly so that you don't catch any infections.
When you are finished, wipe everything clean. When you wash your hands afterward, make sure you use soap and water. Don't rub your hands together. Rubbing will dry out your skin. If you use a soap bar, make sure you use lukewarm water.
3. Do Not Use Deodrants and Scents near Your Genitals
Many people think using deodorants, scented wipes, and other things can make oral sex more enjoyable. But it's just bullshit. You should never put deodorants and scents on your penis. It won't only harm you, but also your partner who is going down on you can end up swallowing it when she is sucking your cock, which can be dangerous. It can even harm your penis by causing irritation or infection near it.
4. Tame and trim
It's important to make sure your partner is well groomed. Your partner should take care of their genitals and hair before you start to play with them. Make sure that they bathe regularly and that their genital area is clean. A clean genital area will help you to be more confident about your oral sex abilities. You will also feel more comfortable performing oral sex on them. A good feeling will make oral sex even better.
Since pubic hair can trap and smell foul so it's better to trim it before you go for oral sex; also, make sure there is hair on the testicles to remove them so that your partner doesn't hesitate to go for oral sex and enjoy giving you the blowjob, this will not only help your partner, but it's very pleasurable for you to when your partners give a confident and great oral sex.
5. Use Alcohol-free mouth wash
Using alcohol-free mouthwash can be beneficial when you are using oral sex. This will prevent bad breath and make your partner taste better. When you are having oral sex, you can easily detect your partner's bad breath if you don't use mouthwash. Also, this can give your partner a pleasant feeling, and they might be willing to perform oral sex on you if they can taste your breath.
If you had used alcohol mouth wash, this could lead to a problem that is known as dry mouth. Dry mouth is a condition that occurs when a person doesn't drink enough water and can result in bad oral sex. Even if you can't know the exact taste of your partner's penis, which can certainly miss your excitement, make sure you use alcohol-free mouth wash for a better oral sex experience.
6. Don't use Desensitizers on Genitals
Desensitizing your penis before oral sex is not recommended. When your partner goes down and grabs your penis in their mouth, they can feel numb as you desensitize your penis, which can affect the oral sex experience for that particular day and future oral sex. It's better you clean your genitals with the help of wet wipes which do not have scents or with warm water and a towel.
7. Tell Your Partner Before You Gonna Cum
Tell your partner before you go down on them so that they will not have any doubt or worry about whether they should stop. This will give your partner a chance to think about how they feel about this new experience quickly. When you reach orgasm and cum, notify your partner from ahead, as no one likes a surprised mouth full of semen.
This can make the oral sex experience unpleasant and messy. There is no point in doing that. And not only this, but it will also affect your future oral sex, so let them know before you cum and rush to the shower or use wipes that you had kept.
8. Play around Genitals
Oral sex can be exciting and enjoyable for both the man and the woman. But there is also another aspect that can be added to oral sex. It is playing around with the genital region. This is when your partner rubs your balls or testicles by rubbing them on and around, which results in arousal and more pleasurable oral sex. This is done by going up and down on the penis or vagina with the fingers.
When you play around with your genitals, you may notice that it will turn into a kind of foreplay. In addition, you can add another thing to your love-making session.
9. Choose Proper Position
The position you should choose while having oral sex depends on the body parts you use for this act. You should place your partner in a position that will allow you to have access to his genitals. For instance, if you use your mouth on the penis, you must be seated facing the man. If you use your mouth on the vagina, you can be standing on the bed or sitting on a chair. You can also be lying on the bed if you like. You must be seated facing the man if you choose to use your hand for oral sex.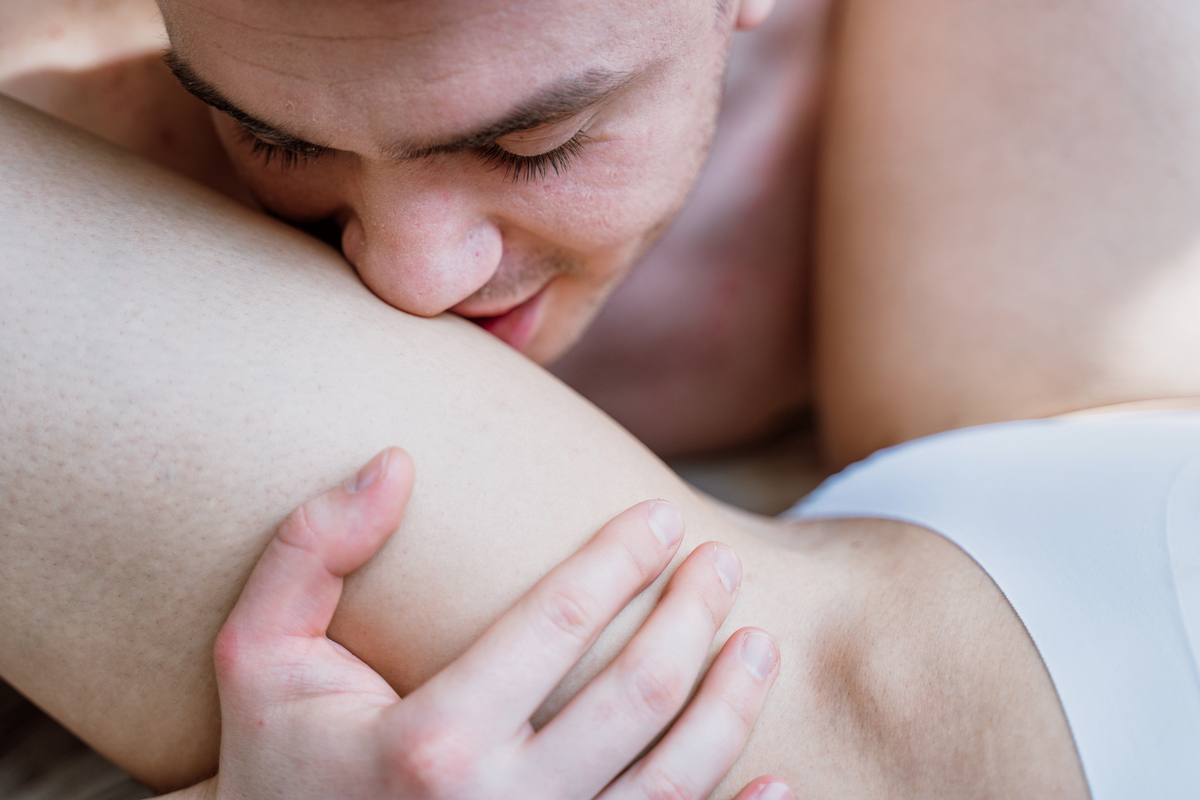 7 Best Ways To Prepare for Oral Sex For Women
Oral sex is a great way to spice up your sexual relationship. However, knowing what to expect before you give your partner oral sex for the first time can be a bit daunting. If you're looking for ideas on how to prepare yourself or your partner for oral sex, then read on:-
1. Clean up Your Inner Labia
One of the best ways to prepare for oral sex is to clean up your inner labia. Most often, dead cells get contaminated near the foods of the clitoris, which can be seen as white residuals. So make sure to clean your labia before going for oral sex. So to clean your inner labia, you need to separate your outer labia to clean up your inner one. To clean it after separation, you can gently use tissues or washed clothes to wipe the area. If the area is very sensitive, ensure you wash it using lukewarm water, not hot water.
A lukewarm temperature helps the area to heal faster. If you have dry skin, use a moisturizing cream before you go to bed. The cream will help the area to soften and reduce friction.
2. Check your Mensuration Cycle
Make sure before you allow your men to go down on you to calculate your cycle. As if you are close enough to start your cycle date, inform your sex partner regarding it as while giving oral clitoris stimulation, they can even see a few drops of blood and the smell as your date is just near, so it's better to inform them regarding the same.
Although if your sex partner has no issues with it and is cool to give oral sex and the same for you so you can move forward with it, it will not only make a good bond between you and your partner but also help in future oral sex. Else suppose you didn't tell them, and your partner got down and found out blood and foul smell it will just worsen the oral sex experience and future experience too.
3. Quick clean with wipes
Just before having oral sex, make sure you clean your vaginal area, including the inner labia, with lukewarm water and tissue gently to remove the white residual, which is just the dead cells that get collected at the folds of the clitoris. So to make sure when your sex partner is giving you oral sex, he doesn't get those in his mouth, make sure to clean it with wipes that are nonscented and gentle on the sensitive skin.
4. Wear Cotton Panties
You may be wondering how cotton panties can help in preparing for oral sex worry not; I will explain everything as I am sure neither you want that your sex partner gets infected because of you nor do you want that you get any vaginal infection which can be fatal. Yes, you guessed it right. Wearing cotton panties can keep you safe from such vaginal infections. When your partner gives you oral sex, he can easily get caught up with your infection if you have any.
And as cotton absorbs the moisture around it, and that's why it is recommended to wear cotton panties, as they will absorb surrounding moisture and prevent that moisture from contaminating your vaginal area with infections that can be fatal.
5. Trim And Clean your Pubic Hair
It's not necessary to fully trip your bushes down there, but a little trimming will do it, as hairs can easily trap the foul smell, which may be discomforting your partner when he goes down, so it best is to trim it a little before you go for oral sex.
And also, make sure while trimming or shaving down, you don't cut yourself as the skin near the genitals is very sensitive. It's better if there's less hair there. If you are preparing for oral sex, you need to trim your hair.
6. Don't Drink Alcohol or Coffee Before Having Oral Sex
If you're planning on having oral sex, it's better you don't drink alcohol and caffeine prior to that, as natural juices can turn sour if you have a lot of alcohol, nicotine, and other substances. If you want when your partner goes down to taste sweet rather than sour, you should definitely give a try yogurt; it helps in sweetening the natural juice.
Also, suppose you have lots of alcohol and caffeine. In that case, it can dry up the water in your body, which can result in releasing less natural juice from your vagina or, say, body's lube, which can result in an unpleasant oral sex experience.
7. Be Naked from Bottom After Shower
It's medically recommended not to wear undergarments just after a shower to let the vaginal area dry up completely; it also helps get the smell and the taste better; the longer you air it out, the better it will go.
If you feel too passionate to care, just get to the action and not think about it. You will not regret it. It's time to let passion take over when it comes to oral sex.
Wrapping Up
In conclusion, oral sex is a great way to express love and affection for your partner. It is also an enjoyable way to bring each other pleasure. It is also a very intimate form of sex. As such, it is important to be prepared for the experience, and hoping with our nine best ways to prepare for oral sex, and you would have known all the facts.
I hope this article has given you some great tips and tricks to improve your oral skills. It's important to remember that when it comes to oral sex, it's all about being gentle, patient, and understanding your partner. Share it with your friends who can find it helpful. Thanks for reading!!!