When it comes to arousing men, we tend to think about how to turn them on—but sometimes, we forget about the other half of the equation. Whether it's due to a bad night's sleep or stress at work, some of us just need a little extra incentive to make our man come to us. This guide will help you in discovering 10 sexy ways to arouse a man & get him in the mood.
If you are the one who really wants to arouse his man and get him in some naughty mood for a great intimate moment, you should first know how to be sexy so that not only his body stimulate but his mind too at the same time. You might be surprised to know that the key to turning on your guy is not just being sexual during foreplay but you need to open up for a few new things to do and you would be on your path to seducing him in no time.
Ways to Arouse Your Man & Get in Mood
Sometimes you will feel sexy and naughty. Your partner may not show that he is in the mood or that he is getting it. But worry not be attentive as now I am going to provide you with my best 10 sexy ways which are really subtle, fun, and very easy to carry and guarantee your man will get aroused both mentally and physically. Slip on something sexy and get ready for some sexy ways to arouse your man even if he isn't having a good time: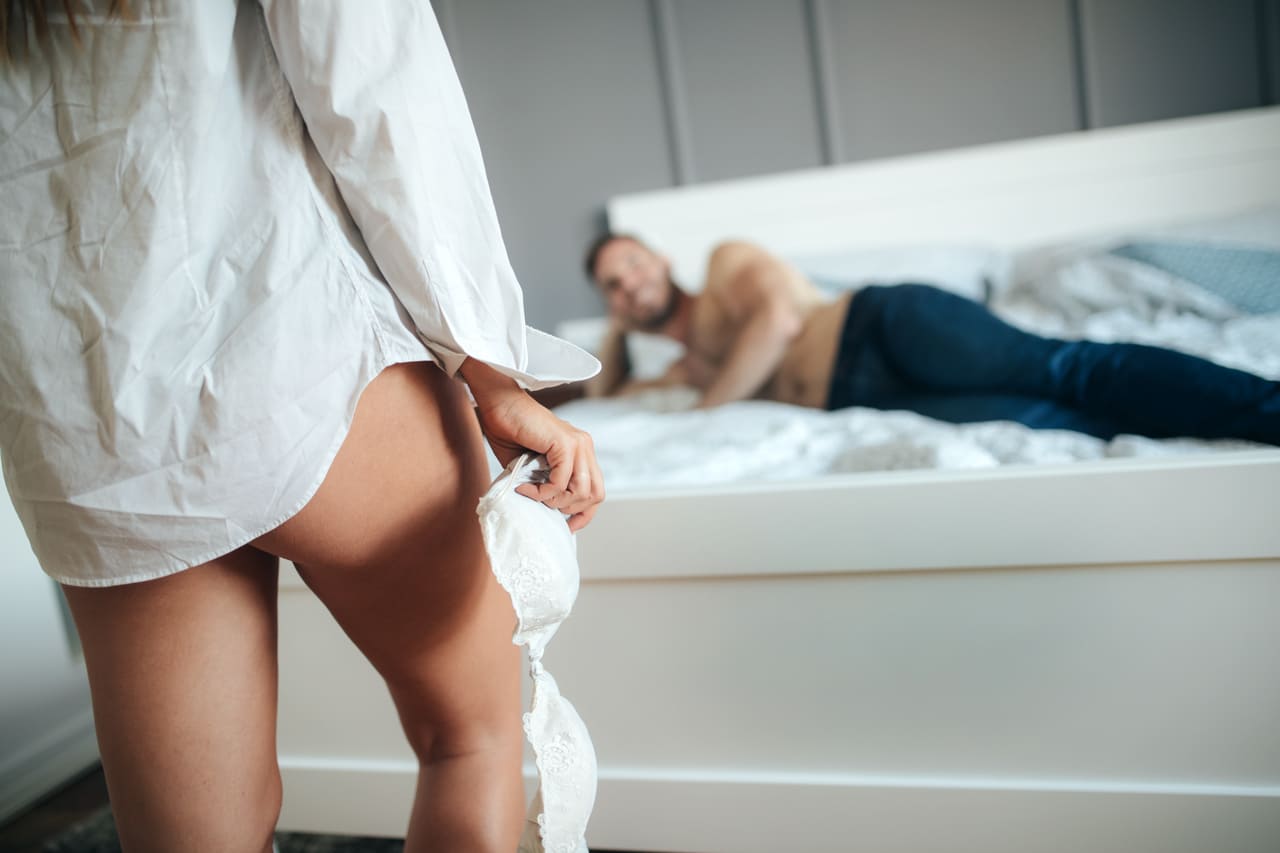 1. Help him Relax
Although I said I would tell you sexy ways to arouse your man but I am mentioning, helping him relax first because most men are not in the mood due to the workload or the stress so it's better first you help him get relaxed as by making his favorite dinner or food. Pour a glass of chilled beer or ice on rocks for him this will help him lightning the mood and feel relaxed and comfortable. Ask him if he wants anything else all these things will help in relaxing his mood.
There are also ways in which you can help him relax in some sexy ways like preparing warm water for a bath and as he gets in the bathtub, you should too slip slowly into it and give him a back massage this will help him in getting relaxed and as you are too in the bath tube would help your man to get sexually excited too.
2. Massage with Hot Oil
If you really want to make him feel relaxed, you can also use hot oil to massage his entire body in a slow manner. Massaging his body with hot oil will help to relieve any tension. It will also stimulate his body and increase the blood flow in the body which will make him feel relaxed. After massaging his body with hot oil, you can also massage his neck and shoulders to give him a deep feeling of relaxation.
You can also convert it into an erotic massage to add some sexy effect, the masseuse may apply some hot oil over your partner and make sure to get close to him so that you can rub your hands all over his body. His arms, chest, legs, and feet should be touched. You should massage the areas that feel tight, painful, and unresponsive. You can massage his penis, buttocks, or thighs. It is sure to turn on your man and get him in the mood instantly.
3. Dirty Talks
Try dirty talks to get your man sexually excited. Make sure to use words that will give him a sexual experience. Tell him that you want to enjoy his body and that you want to make sure that he knows what you think about him. Tell him that you love him, that he is your perfect partner, that he is handsome, that you want him, that you are going to love him, and that you want to be with him forever. This is a very important step in making your lover crazy for you. Talk dirty to your man to make him extremely excited and ready for sex.
As you both are laid or sitting on the couch get close to your man's ear and slowly whisper the things you want your man to do to you. Make sure your lips should be close enough to his ears that even he can hear your breathing this will make him really sexually excited within no time. And at last, slowly bit his ears and get back it will make him gear to want more and he would all be aroused till now and in a mood to do a blast in bed.
4. Slow Kiss & Back
If you want to make your man crazy for you, when he is not in the mood you should slowly lean towards him and give him a gentle long kiss and then you should leave from there without uttering anything, this sexy gesture of yours would make your man curious to know what other stuffs you have kept in your store and that is exclusively available to you. It is the best and the most effective and short gesture to make your man aroused and in the mood.
If you want him to sexually excite and drive really crazy after the above gesture get back to him after a few minutes and you should kiss your way down his neck. You should also kiss his ears and face. You should make sure that he gets the message that you are crazy for him. He will be more eager to please you once he feels the way you make him feel. It's a great way to get in touch with your sexual side and bring your man into the mood. He will feel like he's being courted and pampered.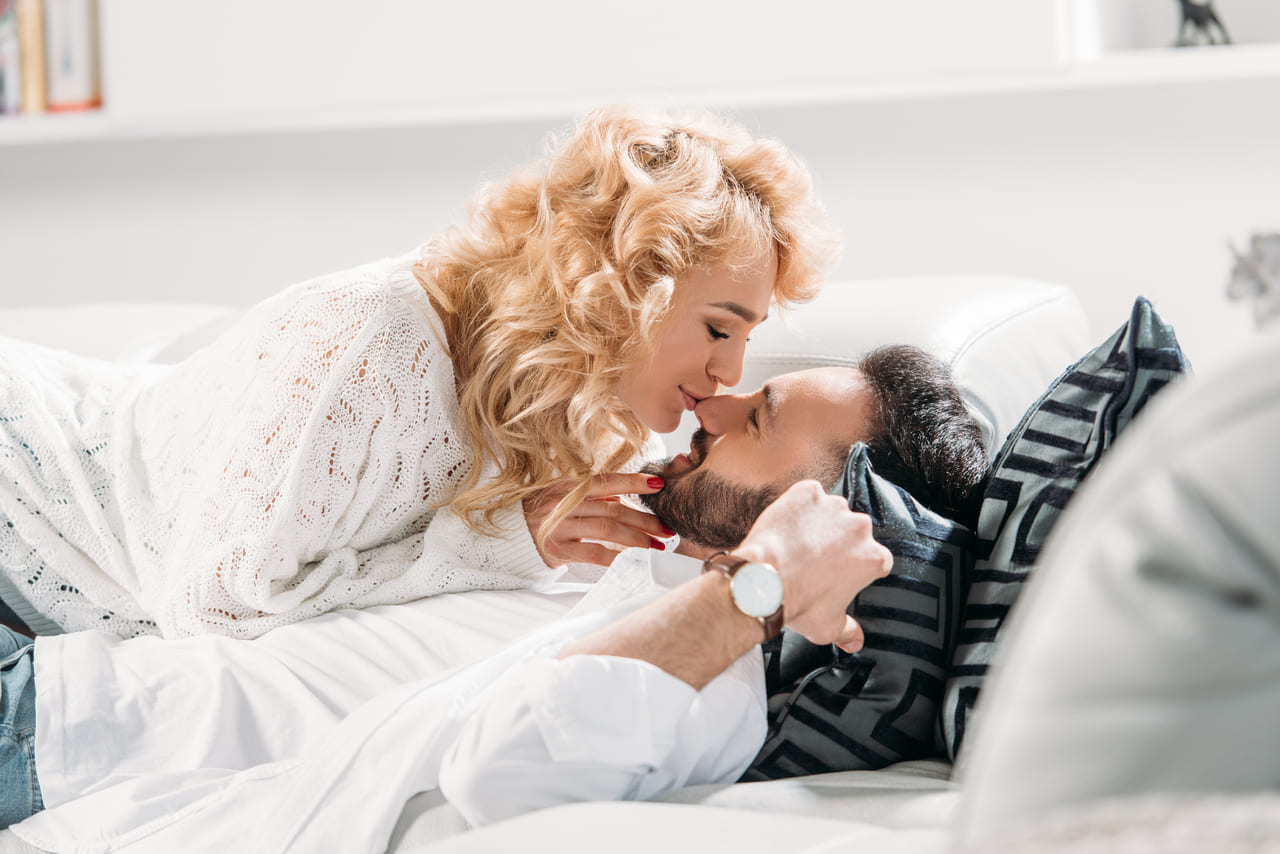 5. Snuggle Up Close & Place his Hand Where you Want
If you are looking for other sexy ways to get your partner in the mood then you should get very close to him and very close means very close. And then slowly hold his hand and place it where you want it to be this way with sexually exciting you man you would also get sexually excited. You should get into his arms and place your hand on his chest at the same time. It's a nice way to get in contact with his heart and feel his heartbeat. This will let you get a better understanding of his feelings. And even sexually excite you too along with him.
Want to make him more erotic slowly kiss on his lip for a long time and as the long kiss completes slowly lick his lips with your tongue with placing his hand on your boobs or at the botty. All these gestures will make him get into you without wasting time and bring back the mood of your man.
6. Touch him
I can't emphasize enough how important this is. If you want to arouse your man, you need to touch him. Guys get aroused by what they see but if you want to take it to the next level, you need to touch him. People are confused when I say "touch him to arouse him. This Doesn't mean think he needs to be touched on his most intimate parts.
Your man's arms, back, hands and neck are some of the most powerful places to arouse him. Make each touch last at least a few seconds and don't just touch him for a second and then walk away. It arouses him, and it also lets him know how you feel about him.
7. Tease Him from Other Room
Go to your room, and start removing all your clothes and get naked. Now that you are naked text him that you're patiently waiting for him in bed. He will be curious and he'll be wondering what you are waiting for. He will be at the door the second you send him a picture of what you look like in bed. If you want to go further, lock the door and wait patiently he would just be outside the door being teased. Having dirty talks either verbally or via text would tease him more and excite him particularly. And as you open the door I am sure he would just jump on the bed with you and now the intimate moment you would have with your man, would be much more sexy and pleasurable.
8. Flaunt your assets
There are some ways to sexually excite men. You don't have to be shy about showing your charms and assets. A woman has a beautiful body. Her shapely curves and toned legs will turn any man on. Men are generally attracted to women who are confident and who know how to show off their assets. Flaunting your assets is a fun way to get a man sexually excited. If you want to look sexy and feel good about yourself, flaunt your assets and show off your body. Faunt your assets, your hair, your body, your boobs, or your butt, it doesn't matter. Make him appreciate you. Even you can wear clothing that reveals your curves, it makes you look sexy. Your body looks wonderful and would definitely arouse your man.
You could start with the basics. Take a shower, wear some sexy lingerie, or maybe nothing at all. Or even while you are taking leave the washroom gets open or curtains revealed. Take your hair down. Start to slowly dress in front of your man flaunting your sexy body parts. Just make him lure you into you without wasting a minute.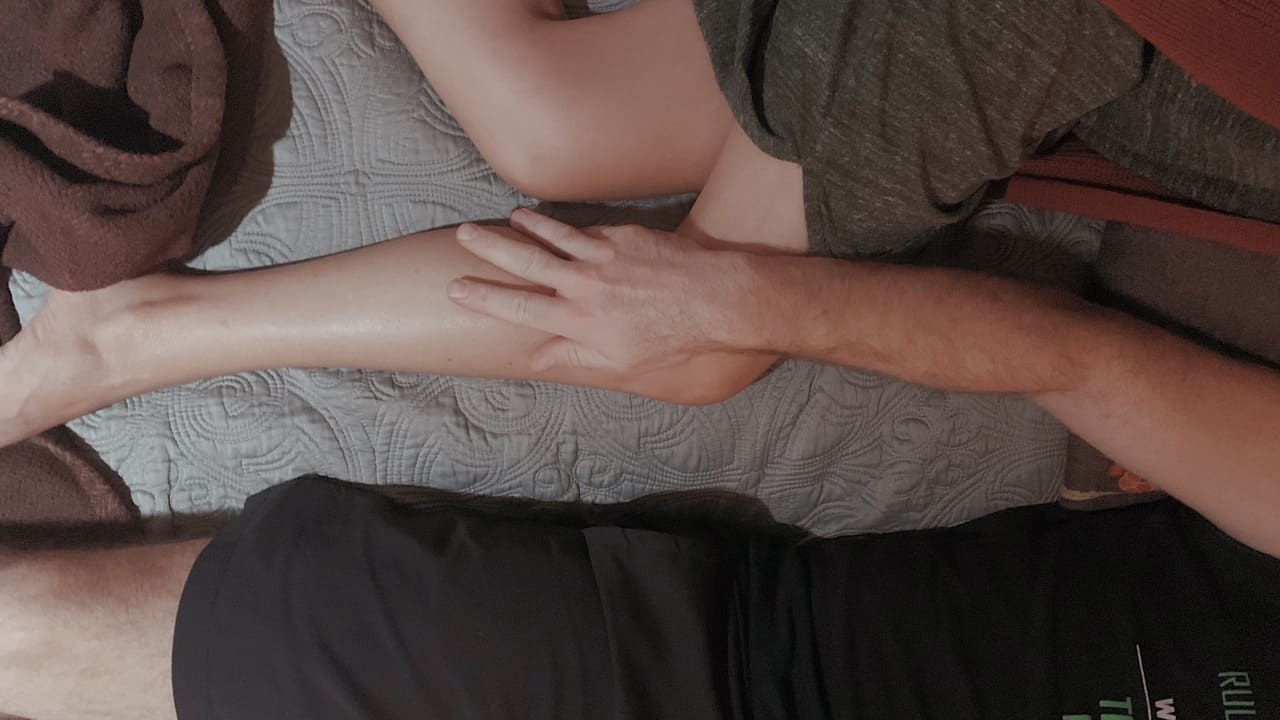 9. Get in Go Commando Mode
If you are looking for more erotic ways to get your man aroused then one of the ways is to go commando mode, in this particular, you need to wear a short skirt or dress that reveals much of your botty and sexy body parts, also you need to make sure you haven't worn any underwear beneath them. Now the next part is to pretend like you are cleaning the house or in reality do it. And for this bend in front of him providing him with the majestic view in front of him, I am damn sure he can't control himself and would be aroused. While he is looking at your majestic view turn back and pass a cute smile to him which he couldn't resist and hope on to you.
10. Text Him when He is at Work
When your man is at work and you are noticing he is not getting in the mood for the past few days start texting him in the office. He would be totally stunned to see such naughty texts from you, you can also level up by sending sexy photos and videos of yours. Talk to him about how you want to be treated when he gets back to you. Also, let it go slowly don't just end all within in few minutes keep on teasing him till he reaches home. As this thing will tickle his mind and make him curious, from the time you first texted him.
When he's at work, his mind is probably not on sex. But you want to set up his expectations for when he gets home. He would be so excited to reach home and have you all to himself. Teasing, again, is an effective way to arouse your man. The slow teasing will make him want you even more. But the important thing is to make sure you're all set when he's about to arrive because you can't disappoint him now. Just make sure you don't overdo it. We don't want your man to be too distracted.
To Conclude
Sex is not only fun but also one of the most romantic things we can do for each other. There's no better way to spice up your relationship than to add a little spice to your bedroom. But what to do when your man is not in the mood, and that's what we told you today in this guide. If you are in a naughty mood and want your man to hop with you in bed try any one of these ways and I am sure you will notice the outcome.
I hope you would have loved reading this guide on ways to arouse your man and get him in the mood. Share it with your friends and colleagues to let them also know about these sexy ways. Also, don't forget to mention the way you are going to try on to get him in the mood. Have a good time with your partner!!!
 Reference:
Ways to Get in Mood: WebMd {2014}