If you have thought about creating your sex doll, you're probably wondering how you can make a homemade sex doll. Well, it's not as hard as you might think. If you've got the right equipment and a bit of time on your hands, you can create a realistic-looking sex doll from scratch. This post will walk you through the process step-by-step of making a homemade sex doll.
Do you know one of the best things about having a sex doll? The fact that you can have sex with her whenever you want. The only problem with sex dolls is that they are not very realistic. There are many websites where you can buy a sex doll, and even many people dream of owning their sex doll. Unfortunately, the high cost of these dolls can put them out of reach for most people.
It is very difficult to make a sex doll that looks and feels like the real thing. The problem is that sex dolls are made from silicone and plastic, which are not as soft as human skin. They don't breathe or sweat. And they do not have a pulse or heartbeat. That's why they're often referred to as "fleshlights." But if you want to make your sex doll, you can. You can make a sex doll that feels and acts just like a real woman.
Materials Needed to Build a Homemade Sex Doll
A sex doll replicates a real woman you can use for sexual pleasure. It is a good investment if you want to satisfy your sexual needs in the best possible way. Different types of sex dolls vary in size, shape, and function. But before we get started on making a sex doll at home, take a look at various materials required to do so:-
Women's wig or shoulder-length wig (style and color of choice)
Women's artificial heads.
Complete women's torso.
4 Bath towels orfluffy blankets for legs
4 Kitchen towels orsweaters or t-shirts for arms
Six 1.5-liter plastic bottles for the upper arms and legs
Two 0.5-liter plastic bottles for the lower arms
1 Small rectangular throw pillow
Silicone hands
Silicone feet
Round pillows for the ass; size you prefer
Skin color tape for skin tone
Needle and thread or glue, whatever you prefer
Cup, or anything else cylindrical in which you can fit the masturbator inside
Sponges
Women's fake breast
Scissorscardboard cutter
Rubber bands or hair ties
Vaginal masturbator or stroker sex toy
Full women's outfit which you prefer
Step-by-Step Instructions on How to Make a Homemade Sex Doll
As you know, making a sex doll is not much harder, but you must invest your time and the proper materials required to get a worthy result. So let's begin making a homemade sex doll once you have all the materials required.
1. Attaching Vagina:
Let's get started with the most important part of the sex doll's vaginal area. So to create a vaginal area, you will need to take the rectangular pillow, cylindrical container, and sponges. SO make a small hole at the end of the pillow in the middle and make space where you can fit your cylindrical container; make sure it should be fitted tight enough.
Now pile up the sponge and make a small hole between each sponge, after which insert the vaginal masturbator in the container, sponge over it, and fit it in the pillow tightly. You can also take the help of tape to make the container stable inside the pillow.
2. Making Torso:
First of all, for those who don't know what the torso is, it's the main part of your body that doesn't include the head, legs, and arms. So to assemble the torso, you will need the women's torso, round pillows, breasts, and needle&thread or glue, whichever method you prefer.
Keep the 2 round pillow next to each other and either sew them or stick it with the glue and then attach it to the back of the torso to act as a fluffy ass. Make sure if you are sewing the pillows together to form ass, do it from the backside to keep the doll booty clean and realistic. Moving on, attach the women's breast to the front side of the torso for the realistic feeling of women's boobs. End it by attaching the vaginal area you made previously to it so that the whole doll's torso work can be completed.
3. Legs and feet:
For creating your doll's leg and feet, you will need 1.5 liters of plastic bottles, bath towels, tapes, and silicone feet. Stack two 1.5 liters bottles one upon another and tape them tightly so that it doesn't move. Now glue it up to the bottom of the torso for leg build-up.
As soon as your leg is attached to your torso, you can roll a fluffy blanket or bath towel around the bottle for a realistic feel of the doll's soft skin. Once it's done, you can add the silicon feet to the bottom of the bottle with the help of glue.
4. Attach Arms and Hands:
For attaching arms, you will need 1.5-liter bottles, 0.5-liter bottles, kitchen towels, and t-shirts. as previously done for legs, stack 1.5 liters, and 0.5-liter bottles; make sure 0.5 one is below and stack them horizontally next to one another and tape them tightly to form the arm of the sex doll. Once done, it's time to attach the arm to the torso so you can either tape it or simply glue it. As soon as this is done, wrap the bottle with the rolled-up kitchen towels to make it comfortable. At last, attach the silicone hand to the arms and ensure you have rolled on enough towels, so the plastic bottle is not visible from anywhere.
Now insert the whole doll's torso, arms and legs, into the doll costume you bought to give it a realistic look; make sure the costume is of your choice, which you prefer to see your sex doll in.
5. Attaching Head:
Now let's bring your sex doll to life by adding the last thing: the head and the wig. So just take your fully assembled torso and stick the women's artificial head to it with the help of sticky tape or glue. Make sure you have stuck the head facing front else while masturbating you can feel awkward when you see your masturbation helper's head something in a different direction sometimes, it can be scary at the same time. Once the head is successfully attached, place the wig on the doll and fully bring her to life.
As of now, it's ready to use, so you can use your realistic-looking sexy sex doll next time when you feel like masturbating and enjoy the pleasure of having actual sex with the help of your sex doll.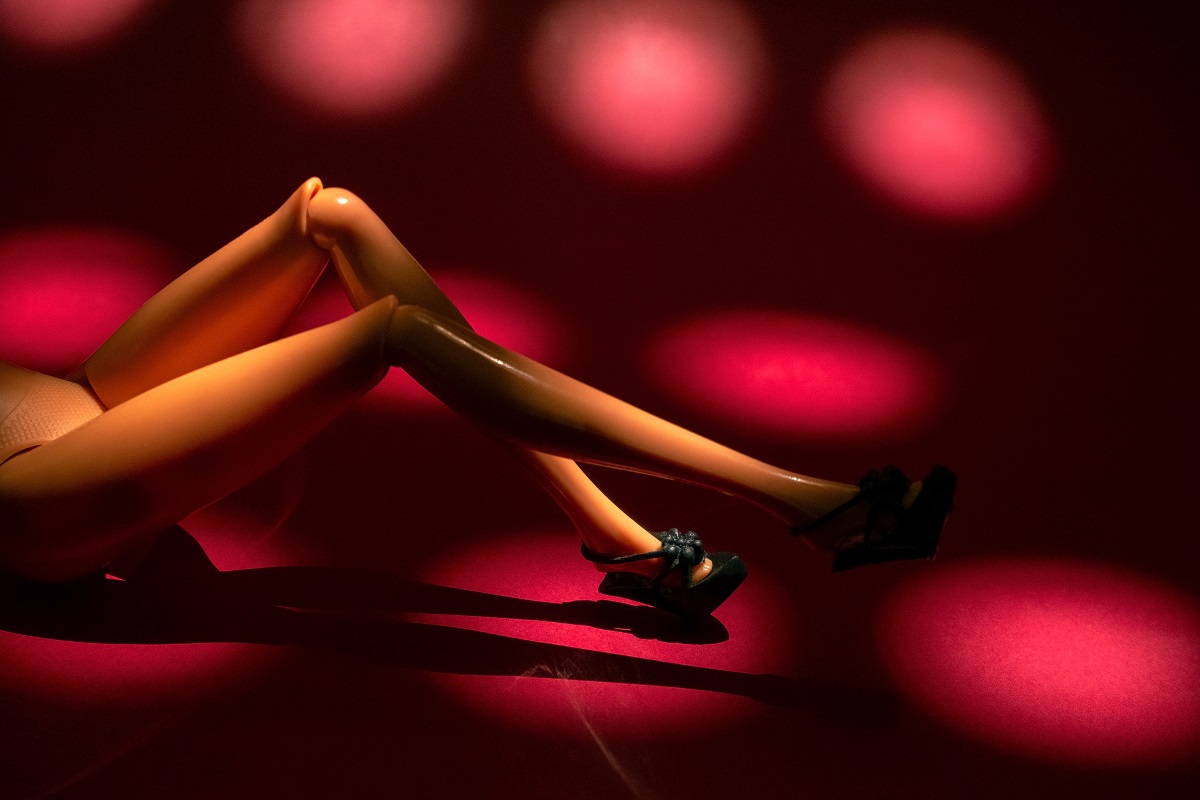 How To Use Your Homemade Sex Doll?
Now you have made your homemade sex doll; you can use her as if you are having actual sex with someone. And even you can practice approx every sex position leaving; a few can have some limitations. If you are a fantasizer, you can try out all your fantasies on your homemade sex doll. Just be sure your sex doll should be capable of it. Although various sex positions can be performed, if some which you want can't be performed with her, you can switch to other positions which can be performed.
And just let me tell you, once you use a sex doll to masturbate, you won't want to do masturbation without her the next time. It's so pleasurable having sex with a sex doll, and penetrating her vagina with your penis just feels like having it with some real-life woman.
How to Care for Your Homemade Sex Doll?
Although it is not enough just to own a sex doll or make a homemade sex doll, you should know how to clean the doll before using it again properly. If you don't properly clean it, this can cause some infections that can be dangerous to your health.
So to clean the doll, you can remove the cylindrical container inserted in the pillow and clean it thoroughly, masturbator, and other things with warm water and soap. Or else, if you are willing to buy a cleaner, you can opt for it from the market; there are various sex doll cleaners available to help clean it.
The Final Word:
Hope know you know how to make a sex doll at home; making a sex doll doesn't take much effort and time of your, and I can assure you once you start using a sex doll, you will ultimately love the amazing pleasure. So what's stopping you from using a sex doll? With our steps for making a sex doll at home, you can save much of your money rather than buying a sex doll from the market, which will certainly lead you to break your account.
I am very happy to share my experiences and knowledge with you. I hope this article is useful for you. Share it with your friends and colleagues who are into sex toys and sex dolls; we at World's Sex Guide share various information related to sex education. Thanks for reading!!!